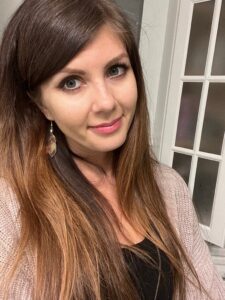 Sari Latomaa (she/her/hers) is an anti-trafficking specialist, trainer and human rights advocate. She joined IOFA in 2021, and is currently working as a Task Force Data and Program Support Specialist for the Westchester County Anti-Trafficking Task Force.
Sari has been working in the field of social justice for over a decade, working with anti-trafficking non-profits as well as the District Court. Through her work, research and advocacy, Sari aims to highlight the various societal issues that keep communities in disadvantaged positions. In addition to anti-trafficking work, she is a strong advocate for mental health, social justice, fighting systemic racism, gender-based violence and school violence, also referred to as bullying. Sari believes a multi-disciplinary approach is fundamental to effectively fight for human rights. She is particularly interested in the intersection of law, criminal justice and social work.
Sari first started her career in the anti-trafficking field in 2014. Since then, she's worked in research, advocacy, provided emergency services and case management for trafficking survivors, and educated stakeholders on human trafficking and trauma-informed protocols. She's partnered with survivor leaders to ensure best policies in services and outreach. Sari previously participated in the Cook County Human Trafficking Task Force Subcommittees, and played a key role in establishing and running a drop-in center for sex trafficked women. Since joining IOFA, Sari has worked on numerous projects to bring awareness to and further knowledge and research on the intersection of human trafficking and disabilities. Sari's interest in disability justice is highly personal. Her favorite project to date was a successful consultation with the NHTTAC, providing subject matter expertise on developing and peer reviewing a human trafficking curriculum and high school safety protocol for K12 schools, integrating disability considerations into the curriculum.
Sari has a Master of Laws in Intercultural Human Rights from St. Thomas University College of Law. She has completed her Doctoral studies in Intercultural Human Rights, and successfully defended her Doctoral thesis addressing commercial sexual exploitation of youth and building trauma-informed practices in the criminal legal system. Her Doctorate in Judicial Science (JSD) is currently pending final edits and publication of her book.
Sari believes in grassroots action, and has volunteered for a local human trafficking hotline and provided mentoring for sex trafficked youth. She is also a monthly presenter with MJ Scarlett Foundation, educating communities and at risk youth about human trafficking. In addition to fighting for societal change, Sari is a passionate fiction writer, traveler and an amateur musician, and will take any chance she can get to go catch the sunset at the beach or hike to a waterfall.