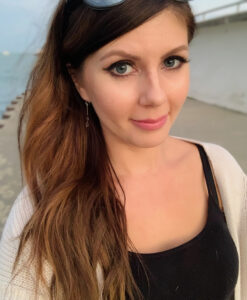 Sari Latomaa (she/her/hers) is an anti-trafficking expert and human rights advocate, currently working as a Coordinator for the National Human Trafficking and Disabilities Working Group (NHTDWG). Sari believes a multi-disciplinary approach is fundamental for effectively fighting for human rights, and is passionate about the intersection of law, criminal justice and social work.
Sari has experience working within the Court System in Finland as well as in non-profit environments both in Finland and the U.S.. She has worked with trafficking survivors, provided training and education on the issue of human trafficking and helped build trauma-informed protocols for anti-trafficking organizations. She has also participated in the Cook County Human Trafficking Task Force Subcommittees, and played a key role in establishing and running a drop-in center for sex trafficked women in Chicago.
Sari has a Master of Laws in Intercultural Human Rights from St. Thomas University College of Law. She has completed her Doctoral studies in Intercultural Human Rights and successfully defended her Doctoral thesis addressing commercial sexual exploitation of youth and building trauma-informed practices in the justice system. Her Doctorate in Judicial Science (JSD) is currently pending final edits and publication of her thesis.
In addition to fighting for societal change, Sari is a passionate fiction writer, traveler and an amateur musician.