Welcome to NHTDWG Coordinator's Blog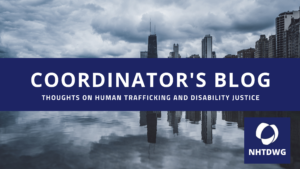 Hey! Welcome to NHTDWG Coordinator's Blog!
We're glad you're here and want to learn more about the intersection of human trafficking and disability justice!
In this Blog, we will be discussing the intersection of human trafficking and disabilities, and sharing our knowledge and thoughts on current topics and events. Human trafficking does not happen in a vacuum. Many societal issues are closely linked to anti-trafficking and disability justice work. This Blog will be taking a closer look at some of those topics, and how they connect with human trafficking of individuals with disabilities.
NHTDWG values collaboration and a survivor-centered approach steeped in disability and racial justice, rights of immigrants, and LGBTQ+ rights. We acknowledge the impact racism, oppression, and discrimination have on the anti-trafficking and the disability communities, and believe racial justice and disability justice are important in ensuring accessible and appropriate responses to survivors. Furthermore, we acknowledge the impact of trauma in anti-trafficking and disability communities. We believe in a trauma-informed, person-centered approach and centering the leadership of survivors and self-advocates.
While everything we do is through the lens of our core values, the opinions expressed in this blog are of the Author alone, and do not necessarily represent the views of the entire NHTDWG. 
To learn more about the voice behind the posts, check out the profile of our current NHTDWG Coordinator.
Welcome! We are happy you're here.
Sari Latomaa
NHTDWG Coordinator