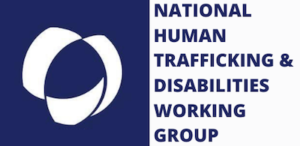 The mission of the National Human Trafficking & Disabilities Working Group (NHTDWG) is to promote a survivor-centered, collaborative approach steeped in disability and racial justice for the prevention of trafficking of people with disabilities and Deaf individuals and ensure an accessible and appropriate response to survivors.
Donate
NHTDWG is a volunteer-run collaboration and is funded through your donations! With your help, we can purchase accessible platforms for online trainings, make our resources accessible, and provide compensation for survivors and self-advocates who create and present trainings to the anti-trafficking and the disability communities. Thank you for donating! We appreciate your support!
Steering Committee
The NHTDWG Steering Committee is formed from experts and self-advocates from the fields of human trafficking and disabilities.
Click the following link to learn more about the NHTDWG Steering Committee.
Subcommittees
Training and Education
Capacity and Community Building
Research and Policy Advocacy
Click the following link to learn more about NHTDWG Subcommittees 
Click the following link for: IOFA Knowledge Center resources on human trafficking and disabilities
Click here to watch an April 2021 NHTDWG Educational Session on "The Power of Language" with Ali Chiu of San Francisco SafeHouse 
Please email NHTDWG@iofa.org with any questions. Thank you.